SURE HOME IMPROVEMENTS
SERVICES
MEET US
ABOUT US
PORTFOLIO
REFERRALS
CONTACT
SURE HOME IMPROVEMENTS - WHAT WE DO




Green Initiatives
New Roof Installation
Roof Maintenance
General Contracting




Siding Installation & Repair
Window Replacement & Installation
Interior & Exterior Painting Services
Home Remodeling



Kitchen & Bath
Bathroom Remodeling
Deck & Patios
Metal Roofing
Remember, your personal project manager is the owner of Sure Home Improvements, Joe Schuer. You can contact him by calling 614-975-7727 or emailing him at joe1@surehi.com
Sure Home Improvements is licensed, bonded, and insured. Rest assured with Sure Home Improvements; for your roofing needs or general home improvement or repair needs, we are here to serve you.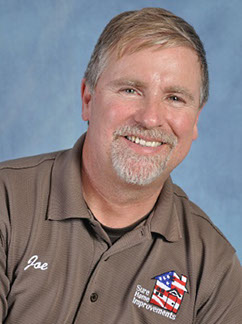 The Question I am most often asked - When is it time to replace roofing and gutters?
MY ANSWER - Curled Shingles on your roof can allow rain to get in and curled shingles are easily damaged by the wind.
Worn off Granules, the roof shingle granules protect shingles from sunshine and rain, when they are worn off, the shingles will deteriorate.
Granules may be present in gutters or by your downspouts. You may also see dark spots on your shingles where granules are missing.
Loose or missing shingles from your roof Cracked shingles is a common cause of roof leaks.
Spots on Interior Ceilings may indicate that your roof is in need of repair.
Streaking of discoloration of roof shingles Age of roof could determine if a new roof is necessary.
Depending on the quality, many roof shingles will last 10 to 25 years.
Recent storms? Have a roof inspection performed to see if there are any damaged areas on your roof that need repaired.
We are storm damage experts; let us help you navigate the insurance claim process. Roof Preventative Maintenance Specialist. Call or e-mail Sure Home Improvements today to schedule a free, no obligation inspection of your home's roof today. Taking precautionary, preventative maintenance measures today could prevent costly repairs of tomorrow. Providing new roofs, re-roofing services, roof maintenance, roof leak repairs, free roofing estimates, roof inspections in Columbus and Central Ohio. CLICK HERE FOR BETTER BUSINESS VIDEO REVIEW

Don't Weather the Storm Alone...!
Sure Home Improvements offers personal service with years of experience in insurance restoration. We are your Storm Damage Expert. And your personal project manager, owner of Sure Home Improvements, will be with you each step of the way.
If your home has suffered damage due to a storm or other reason, you can rest assured. Sure Home Improvements has years of experience working with insurance claims adjusters and insurance companies. With every Sure Home Improvement or Repair project, you get your very own personal project manager: me. I personally communicate with the homeowner and the insurance company throughout the process of getting your home repaired with your insurance company. AREA'S SERVED - click here.
INSURANCE CLAIMS - I help you simplify the process!
PORTFOLIO EXAMPLES OF OUR WORK
AREA ASSOCIATION REFERRALS
Daniel Thurmond, Reynoldsburg, OH (614) 561-0005
HER Realtors, Elton & Barbara Acker, Pickerington, OH (614) 361-4441
Esley McCloud, Obetz, OH (614) 491-1400
Milton W Keaton, Realtor, Reynoldsburg, OH (614) 893-3888
Jenny & Jack Rees, Columbus, OH (614) 459-0711
Roger Brownfield, Barnesville, OH (740) 619-0057
Sue & Dan Yarnell, Pickerington, OH (614) 866-9535
Thomas Boder, Rotary Club Reynoldsburg/Pickerington, Blacklick, OH (614) 864-7741 or (614) 236-2948
Jeffery Kircher, Third Federal Bank, Westerville, OH (614) 451-2033 or (614) 595-4333
JR Advertising & Integrated Cyber Marketing, LLC 614-430-9858
David Rosen, Central Insurance Agency (614) 861-3100 or (614) 204-7469